Affordable hand-treated kinbaku ropes by the world's best kinbakushi "ARISUE Go" himself!
Information
*Please make sure to set to receive emails from @jugoya.com before you place a purchase order. Thank you!
2020 is 40th anniversary of Arisue Go as a kinbakushi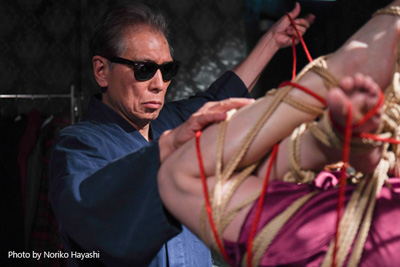 40th Anniversary Greetings
40 years as kinbakushi.
Experienced enormous 20,000 ties.
Bond of rope is bond of human.
I do believe I could continue kinbaku to date thanks to the miraculous bond with people who got to know through kinbaku.
Ropes directly reflect your or partners' state of mind more than you expect.
If you try to dominate the ropes they will betray you. If you treat the ropes crudely they will pay you back. What I learnt from these experiences is "being honest" in front of the ropes.
If you express your honest emotion to the ropes, they will sure to show you flawless, beautiful shape.
I feel "the rope is running" at the moment my will and the rope's will coincide.
If the "God of Rope" exists, he/she is giving a small reward for me.
40 years as kinbakushi.
Still 40 years. Long way to go to great artistic heights of kinbaku.
I will continue to work with appreciation to the given opportunities and bonds.
2020, unforgettable pandemic year
Arisue Go